This fundraiser has ended!

All Groups
Business & Art Infusion Fosters Creativity & innovation
We are hosting Miami's first ever Business & Art Infusion Fosters Creativity & Innovation Symposium on Friday 26 Jun 2022.

#BAI22 is open to everyone with an interest in Art and Business. The series is an opportunity to expand ideas and discuss the issues that matter most in the world of Art and Business.
Theme:
BAI Books and Bloom Fair
The Art in Business 
The Business in Art
The Infusion of Business & Art
Created just for you, by AMOR umbrella to help you build community with creatives and business minded people just like you. BAI22 Miami would will bring artist, dreamers, veterans, educators and consumers together for a unique, community building, sustainable Art and Business Infusion event. It would be open to our heroes: military and first responder spouses - past, present, and future, to our communities: small businesses, and to our future: students, entrepreneurs, artists & dreamers. 
Come join our veterans, students and our community to celebrate Hope, Opportunity and Success.
We'll keep your mind stimulated all day with a program of talks, panel discussions, business solutions, mini book fair, mini film festival, product showcases, live demos, keynotes, a robust expo with top tier vendors, and industry professionals. and workshops + your stomach full with lunch, morning and afternoon tea provided.
It will present professionals with the tools, connections, and education that they need to accelerate growth and innovation for both themselves and their businesses.
An opportunity to connect with representatives from Fortune 500 companies, multimillion-dollar businesses, nonprofit organizations, entrepreneurship experts, stakeholders, students and veterans, and military spouses business owners participate in round tables discussion, present speaker sessions about their company, take part in insightful panel sessions and providing opportunities to connect with those in your industry.
It costs a lot to run an event and finding the funding to make it happen is always a challenge so we are seeking your help.
Are you with us? We hope so :)
We have launched this crowdfunding campaign to raise the funds to make it happen.
No donation is too small and every dollar counts! We would be so grateful for your support :)
Please help us spread the word and get friends, family and anyone you know to pledge to BAI MIAMI so we can get it up and running.
If you have any questions, please don't hesitate to email us at [email protected]
Much love
Xoxo
Niurka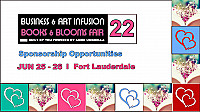 Donations & Comments
Only administrators, organizers, and beneficiaries can reply to comments.
There have been no donations to this fundraiser yet.