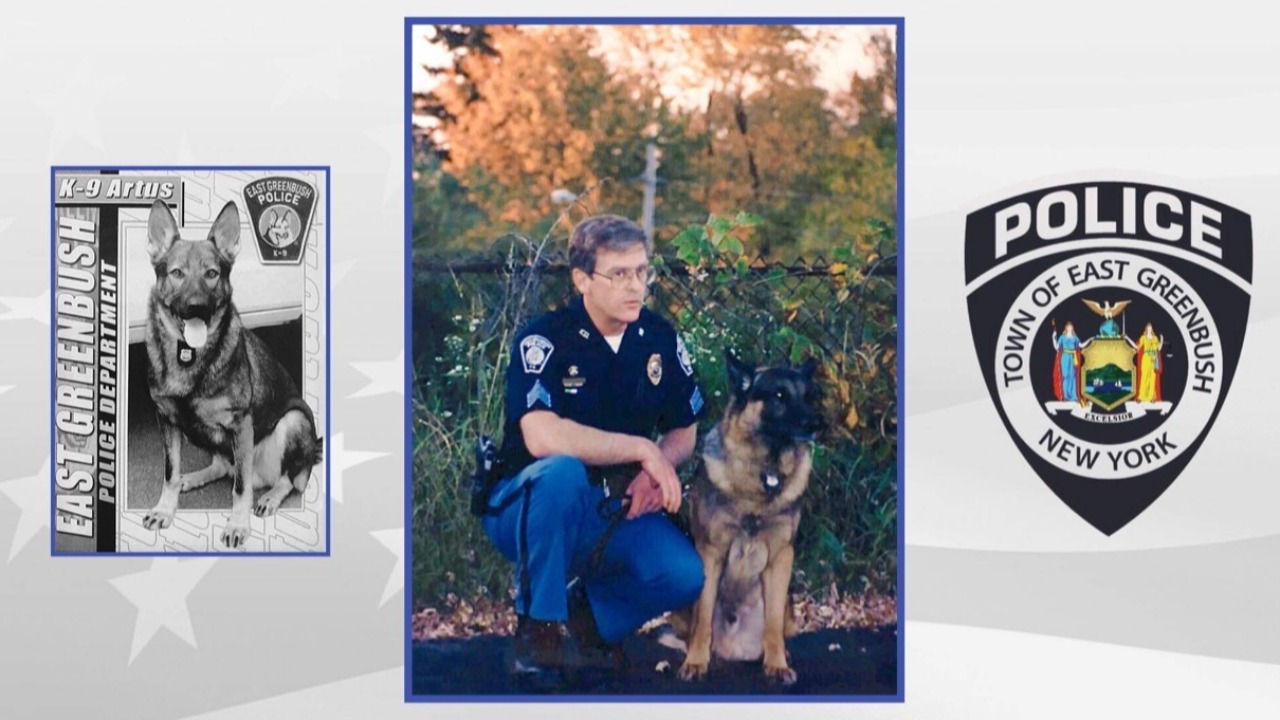 Law Enforcement
Coins for a K9 (East Greenbush Police Department, New York)
The Town of East Greenbush is a small suburb just outside of the capital of New York, Albany. In 1985 the East Greenbush Town Board agreed to a one year trial of a Police Canine program under the leadership of Chief John Burns. With unanimous support from the Town Board and Chief Burns, Sergeant Rick Kemner was appointed to a K9 Handler. Through Sergeant Kemners career he had five dogs trained in dual-purpose narcotics detection. The canine unit was disbanded in 2007 with the retirement of Sergeant Kemner.
In June of 2019 the Town of East Greenbush appointed a new police Chief. Detective Sergeant Elaine Rudzinski, a 26 year veteran of the department, was appointed and named the first ever female police chief in the history of Rensselaer County. After stepping into her roll, Chief Rudzinski quickly met with her staff to see their visions of what direction the department was heading and where they saw themselves in the future. 
Upon my meeting with the Chief we discussed many things to bring our department into the modern era. I was born and raised here in East Greenbush and I feel extremely fortunate to serve my community. In my five years as a Police Officer I have seen firsthand the benefits of having a well-trained canine utilized. Whether it's combating the drug problem, bonding with the community, locating missing persons, protecting officers or deterring crime, canines are extremely necessary in Law Enforcement.
Last year, with permission from Chief Rudzinski, I began researching different funding opportunities to limit the financial burden on the town. The initial startup of this program is costly and the town was unable to fully support it without financial aid. The bulk of the cost is a dedicated specialized canine unit to transport the dog around and keep it safe. I have began to reach out to request any type of funding to help us purchase all the necessary equipment. 
The re-establishment of our canine unit will benefit our town immensely. While COVID-19 has brought a heavy financial burden to many, we hope that the donation of even a small amount will help us better protect and serve the community we all love.
All proceeds gathered from this fundraiser will go directly to the East Greenbush Police K9 program and any left over funds will be placed directly back into the community through our community policing events such as "shop with a cop".
Contributions & Comments Anonymous contributed $250
K-9s are a great resource. Best of luck.
2 hours ago Kelly & Matthew Sullivan contributed $50
11 hours ago John and Laurie Mooney contributed $100
1 day ago Nicola Streeter contributed $50
1 day ago Matt & Leslie Polsinello contributed $100
This would be great for the town!! Good luck!
1 day ago Elizabeth Smith - Kinderknoll Kennels contributed $200
In honor of Rick Kemner and In Memory of Kinderknolls Askar CD and SCH 1  -  East Greenbush first Police K9
1 day ago Beth Polsinello-Younkins contributed $100
Love this idea! Let's make it happen
1 day ago Martha Lasher Warner contributed $30
This is something that I believe the Town of East Greenbush can benefit from. Great idea and good luck. See you all in December. Elaine, I will make you your own cheesecake for Christmas, or whenever you want it.
2 days ago
William Rudolph contributed $50
2 days ago Nicole DeRubertis contributed $10
2 days ago