All Groups
Critical Incident K9's
Because of the climate that we are in, 1st Responders are under an overwhelming amount of stress. K9's For Freedom & Independence is doing what they do best by training very special dogs for First Responder Agencies across the country.  These dogs will go with their Handler to Critical Incidents, Victim Interviews, Peer Support Meetings, Recruiting Events, Schools, Community Events, Officer Involved Shootings to help others decompress who were on scene, Funerals, Shift Briefings just to name a few. Unlike Therapy Dogs, these dogs are trained to work multiple locations in one day, 40 hours a week plus on call. These are not dogs that only go to sterile settings with little stress. These dogs have to handle people that are highly stressed and emotional and keep their composure and training.
These dogs have saved lives,  elevated the emotions of those involved in a critical incident, Changed the minds of those not wanting to go to critical incident debrief.
These dogs are Law Enforcement K9's with their own yearly certification. Because of this, it takes a lot of time training them.
The demand for these special dogs are growing by leaps and bounds, we need some financial help to accomplish the goals needed to acquire, train and then donate them to the agencies that apply.
In the last 2 week, we have gotten requests for 5 dogs. 
Find us on Facebook, and Instagram
Updates

June 21st, 2022
Janeen Baggette, Organizer
If we can get everyone to donate even $5, that will go a long way. We have so many 1st responders in need of help that are not seeing the support in their communities as we once did.  Our organization is doing everything possible to take a rescue dog and place it in agencies so they can then pay it forward to those who need rescuing.. We are at a tipping point where those heroes will no longer be able to save others if they then can't save themselves 1st.  Help us help them and together we can make our communities safer!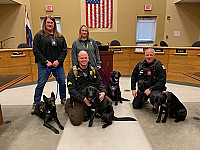 Donations & Comments
Only administrators, organizers, and beneficiaries can reply to comments. Anonymous donated
$100 Tom Rizzo donated
$100

---
Reply from

Janeen Baggette

Thank you so much my friend!