Law Enforcement
Fallen Officer Mark Christopher "Chris" Wagner II, Wintergreen Police Department (VA)
The Virginia Association of Chiefs of Police, in cooperation with Wintergreen Police Chief Dennis Russell, are organizing this fundraiser for the family of fallen officer Chris Wagner. As Wintergreen Police Department is a private police department in the Commonwealth of Virginia, Officer Wagner's family is not eligible for line of duty death benefits from the state.
Message from Wintergreen Police Chief Dennis Russell:
Mark Christopher "Chris" Wagner II was a dedicated Officer who served the Wintergreen, Va. community with honor. On June 16th, 2023 Chris answered his final call before taking his place with other heroes who have gone before him by laying down his life for the people he swore to protect and serve. 
Chris, was thirty-one years old, a 2010 graduate of Spotswood High School, he was a resident of Stuarts Draft. Chris is survived by his immediate family and the men and women who were his Wintergreen Police family. 
Chris started his career at Wintergreen in August of 2020. Previously he served seven years with the Massanutten Police Department starting out as a Gate Attendant and then becoming a Police Officer after graduating from the Central Shenandoah Criminal Justice Academy in May of 2019.
Chris asked for and worked the midnight shift. Whenever you saw Chris in the daylight, he wore dark dark sunglasses, and would crack a smile or two. Chris was dedicated to his job and whenever called for extra duty he was ready, willing and able. His love for the badge was evident and his commitment to the community was undeniable.
Chris was an avid outdoorsman, spending his off-time hiking and photographing nature. Chris is remembered for always going out of his way to cheer others up and his infectious laugh was loud and echoed throughout the office. 
Chris was the Agency's TASER and BolaWrap instructor. His father, holding back tearful emotions, remarked that Chris was like Batman and was reminded of recently gifting him a batarang to go with all the tools Chris carried on his belt. 
Chris Wagner, Wintergreen Police Officer ID #15, was and always will be a hero. 
-----
PRESS RELEASE: VSP INVESTIGATING FATAL SHOOTING OF WINTERGREEN POLICE OFFICER
At the request of Wintergreen Police Chief Dennis Russell, the Virginia State Police Bureau of Criminal Investigation's Appomattox Field Office is investigating the circumstances of an incident that resulted in the fatal shooting of a Wintergreen Police Officer and the injury of three others Friday night (June 16).
The incident began shortly after 10 p.m. Friday when an emergency call came in to the Wintergreen Police Department about an adult male resident having assaulted two other adult males at a residence on Arrowood Lane. After calling police, the two injured males fled the residence on foot. They are being treated at UVA Medical Center for non-life threatening injuries.
At this stage of the investigation, it appears the first Wintergreen Police Officer to arrive at the residence located the adult male suspect in the nearby woods and a struggle ensued. During the course of the struggle, the officer was shot and died at the scene.
The male suspect was taken into custody without further incident by Wintergreen Police and the Nelson County Sheriff's Office. The male suspect was suffering from a non-life threatening injury and was transported to UVA Medical Center for treatment.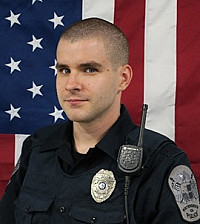 Updates

June 23rd, 2023
Virginia Association of Chiefs of Police, Organizer
In an astonishing show of support, all of you – more than 700 supporters! – have raised in less than a week an amount equivalent to the Line of Duty death benefit that would have been paid by the state to Officer Wagner's family had Wintergreen PD been eligible to participate in the program. This is just incredible!  We started this fundraiser with a much more modest goal and just a little hope that we could do something for the family to help with immediate expenses. But that initial goal was met within the first day, so then we just kept raising it little by little every time a new goal was exceeded. Even still, we never imagined $100,000 would be possible... let alone so quickly!  We wish we could thank everyone individually, but we just can't keep up! On behalf of the Wagner family and Wintergreen Police Chief Russell, you all have our immeasurable gratitude for the gifts you've given, the sentiments you've shared, and the help you've provided by spreading the word about this fundraiser. We are humbled by the generosity and the group effort... bless you!   -- The VACP  🖤💙🖤


June 19th, 2023
Virginia Association of Chiefs of Police, Organizer
We are blown away at the outpouring of support for Officer Wagner, his family, and the Wintergreen Police Department from the Wintergreen community and beyond!  Your collective gifts, large and small, will be such a blessing to Chris's family.  On their behalf, we can't thank you enough.
Donations & Comments
Only administrators, organizers, and beneficiaries can reply to comments. Benjamin Smith donated
$2,000

Mark, Jennie, you are in our hearts and in our prayers. We're so sorry this happened, and we wish we could be there for the service. What little interaction I had with Chris told me he was a good man, a son worth being proud of. May God and His Son bless and comfort your whole household in this time. - The Smith Household (Ben, Camille, Henrietta, and Glenda) Anonymous donated
$2,000

God bless you, rest easy brother, thank you for saving mine. I can't imagine the loss for those you leave behind, the ones reading this. God keep you and may you find peace as well.
---
Reply from

Virginia Association of Chiefs of Police

Thank you so much for your sentiments and your donation. Bless you! Murray Lumpkin donated
$1,200

Such a senseless loss of a fine officer and person. I appreciate so what Chris and the other officers in the Wintergreen Police Department do for all of us living here .
---
Reply from

Virginia Association of Chiefs of Police

Your generous contribution is greatly appreciated! Officer Wagner's family have been so blessed by the Wintergreen community. Westwood Property Owners Association donated $250
We were extremely saddened to hear about Chris's passing and are unbelievably grateful to him for keeping our community safe. We extend our deepest sympathies to Chris's family and fellow officers. Alex Pincus donated $435
Our thoughts and prayers are with the family and we thank Chris for his service. LazerWerk Memorial Bracelet Foundation donated $812
Proceeds raised from memorial bracelets Nelson County Home Builders donated $500 Anonymous donated $100
GOD Bless you and your loved ones. RIP with Jesus. Anonymous donated $50
Our Wintergreen community is so saddened by Chris' passing. We grieve with the family - and are here to support them the best we can. Andrew Hirshey donated $50 Pratyasha Panda donated $100