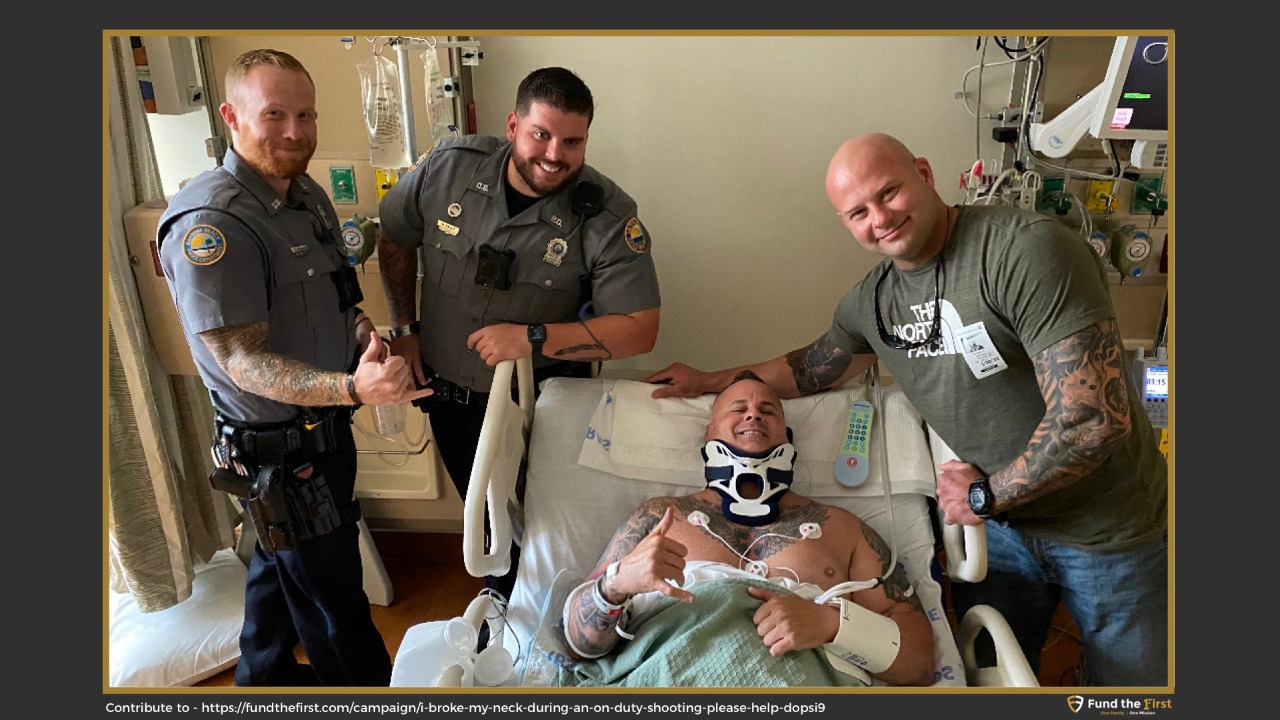 Law Enforcement
I Broke My Neck During An On Duty Shooting - Please Help!
Based on a tip from a confidential informant, myself and other officers were serving a warrant on a violent felon, previously convicted of murder and wanted for the attempted murder of his girlfriend just a few days earlier.
My partners entered the residence and observed the suspect enter a back bedroom down a hallway. They immediately began giving commands for the suspect to show his hands and surrender. The suspect retreated into the bedroom and shut the bedroom door. They kicked the bedroom door open and were immediately greeted by gunfire. one of my partners was struck in the chest, fell backwards and took cover and returned fire. Although shot in the chest, he ensured the female inside the room was able to exit unharmed. Once he ensured the safety of the female, he entered the room to subdue the suspect.  Luckily, he survived and is doing well thanks to his vest.
I was running towards the entry to the residence to provide assistance.  Suddenly, I lost my footing and struck a vehicle with the side of my head and broke my neck.  While in and out of consciousness I was still able to help the female leave the residence, unharmed.
Please help support me due to this tragic event.  Thank you and stay safe.

Donations & Comments
Only administrators, campaign organizers, and beneficiaries can reply to comments. Anonymous donated $100
Praying for your healing. Never give up! Edwin Soto donated $50
God bless you get well soon Anonymous donated $30
Thank you so much for all you do to keep our community safe. Our family will always Back the Blue. Praying for your speedy recovery! Rabbi Rob Thomas donated $1,800
You are in my mi shebeirech (healing) prayers! G-d bless and thank you for your service! Stacey DeCamp donated $25
Praying for a full and speedy recovery. Anonymous donated $100
Thank you so very much for your service and bravery! God Bless you and your family Kimberly Rogers donated $50
Words will never be enough to express our gratefulness for your bravery and for protecting us. Wishing you a speedy recovery physically, spiritually, mentally and sending you heartfelt love and prayers. John Thomas donated $50
Get better and back in the saddle soldier! From retired LEO and current staff member at WW2ARMOR.ORG. Chris Haskell donated $50
Wishing you a speedy recovery from WW2Armor.org!!! Anonymous donated $50
Many thanks to you and your coworkers. Be strong and hang tough! The silent majority is behind you! WW2Armor Tanker