This fundraiser has ended!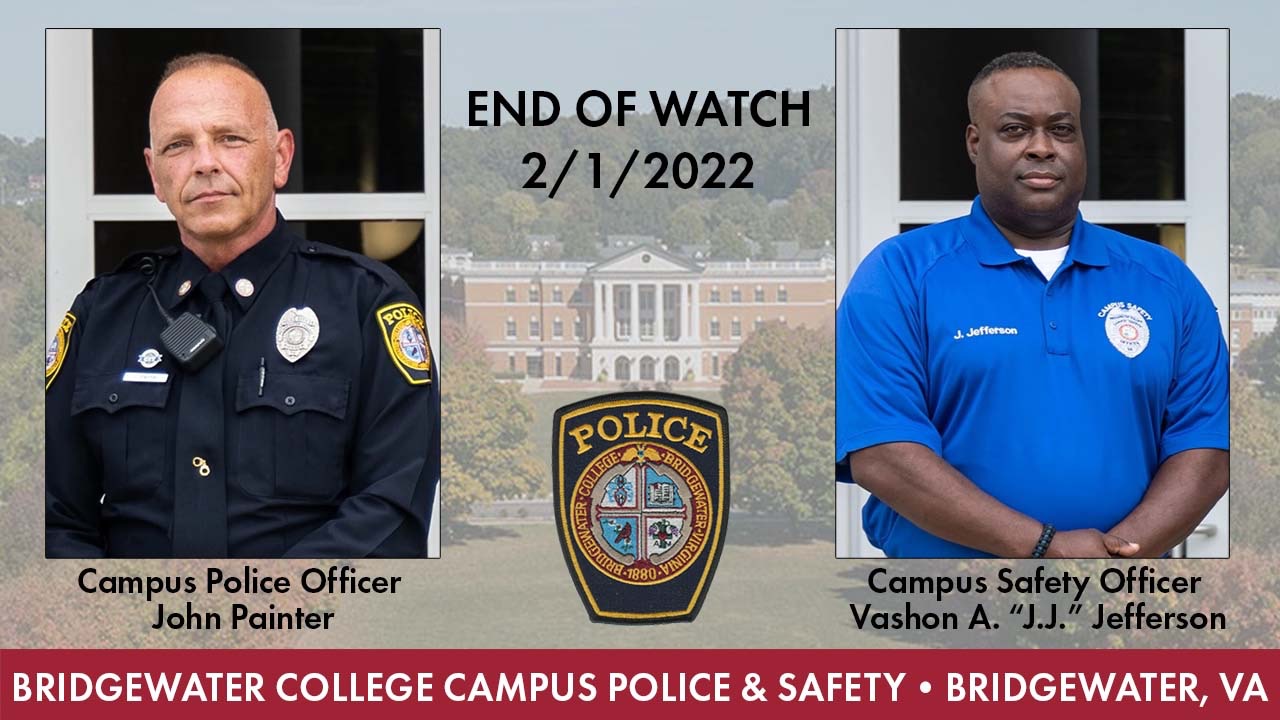 First Responders
Line of Duty Death Campaign for Bridgewater College Officers John Painter & J.J. Jefferson
On February 1, 2022, Bridgewater College Campus Police Officer John Painter and Campus Safety Officer Vashon "J.J." Jefferson responded to a call from College staff of a suspicious person.  When they encountered the individual, he opened fire on the two officers and they were killed almost instantly.

Bridgewater College is a small, private liberal arts college in Virginia. As a private institution, their campus officers are not covered by the Virginia Line of Duty Act, which pays out benefits to the families of local and state officers killed in the line of duty. They need our help!  The Virginia Association of Campus Law Enforcement Administrators, an affiliate of the Virginia Association of Chiefs of Police & Foundation, is organizing this fund to support the families these two officers leave behind. ALL FUNDS RAISED WILL GO DIRECTLY TO THE FAMILIES, AND ARE ENSURED BY FUND THE FIRST.
CSO Jefferson, known for his laugh and big smile, and Officer Painter, a lover of the outdoors and hunting, worked alongside each other since 2019. They were known as the "dynamic duo." When Jefferson got married in 2021, Painter was his Best Man. The two were beloved fixtures of the tight-knit campus community. They weren't just about protecting students, staff and faculty, but they also embedded themselves in the community. They ate with students in the cafeteria, hung out with them at a local campus gathering spot, and often offered the young people around them words of advice.
MORE:'Campus is not whole without them': Students mourn the loss of officers killed in Bridgewater College shooting

OBITUARY: Officer John Painter

Officer John Elwood Painter, 55, joined the Bridgewater College Police Department in May 2019. His law enforcement career began in 1989 as a deputy sheriff in King George. Prior to joining BC, Officer Painter retired as Chief of the Grottoes, Va. Police Department in 2018 after 18 years. He served in the U.S. Air Force from 1985-1988 and as an intelligence analyst in the U.S. Army National Guard from 1999-2000.
Officer Painter was considered a loving family man with a great loyalty to his friends and community.  His devotion could not go unseen to those who knew him.  He was an avid outdoorsman, who loved hunting and fishing.  John also adored his dogs, Mercury and Bella.
John is survived by his daughter, Courtney Painter of Weyers Cave; father and mother, Willie Elwood and Roswita Ottilie "Rosie" Eppers Painter of Stuarts Draft; brother, Andreas "Andy" Painter and wife, Marnie of Greenville; sister, Sandra Fisher of Stuarts Draft; granddaughter, Ava Grace Brooks; grandson, Aiden James Patterson and former spouse, Jessica Harman Painter of Weyers Cave. Also surviving are two nephews, Jacob Painter and Austin Painter, both of Greenville; two nieces, Savannah Clark of Stuarts Draft and Kaitlyn Painter of Greenville; uncles, Garfield Painter and wife, Janice of Staunton, Earl Painter and wife, Linda of Mechanicsville, and Warren Painter of Fluvanna; aunts, Carole Painter of Lofton, Connie Painter of Palmyra and Nannie Mae Painter of Fishersville; numerous cousins, including close cousins, Dwayne and Morgan Painter, as well as many extended family members and friends.
He was preceded in death by his grandparents and several aunts, uncles and cousins.
OBITUARY: Officer J.J. Jefferson
Officer Vashon A. "J.J." Jefferson, 48, joined Bridgewater College in August 2018. His law enforcement career began in 1997 as a deputy with the Fairfax County Sheriff's Office before serving as a National Reconnaissance Officer in Chantilly, Va., from 1999-2011. Prior to joining Bridgewater College, Officer Jefferson served as a sergeant with Shenandoah University Department of Public Safety. During his time at SU, his personable and proactive security initiatives led to him receiving the James B. Wilkins Award in 2017.
Officer Jefferson is the son of the late Willie F. and Willie B. Brown Jefferson, who survives. In addition to his parents, he leaves behind his loving wife, Shannon Oates Jefferson; a sister, LaTonya Brown; uncle, Bobby Brown; his in-laws, Kenny and Mary "Katie" Oates; brothers-in-law, James Oates and wife, Kristina; John Oates and wife, Shayla; and nephews, Thomas and Gabriel Oates.
Donations & Comments
Only administrators, organizers, and beneficiaries can reply to comments. Sigma Rho Mu Business Fraternity donated $2,500
---
Reply from

Virginia Association of Chiefs of Police

Thank you so much for the donation! Chief Philip A. Broadfoot (Ret.) donated $250
Your courage and sacrifice will be remembered. May you now rest in peace.
---
Reply from

Virginia Association of Chiefs of Police Richard Bishop donated $100
member Brotherhood of the Fallen Suffolk County NY Ryan Whaley donated $2,000
Donation being made by the members and officers of the Prince William County Police Association.
---
Reply from

Virginia Association of Chiefs of Police

Oh my gosh! Thank you so much to the PWCPA! Elkton Ruritans Ruritans donated $100
Keeping your families in our heart! Rest in peace John and J.J. Derrick Stockdreher donated $20 Michael Marshall donated $300 Debra Hettrick donated $20
Most sincere condolences to the families and the department.