This fundraiser has ended!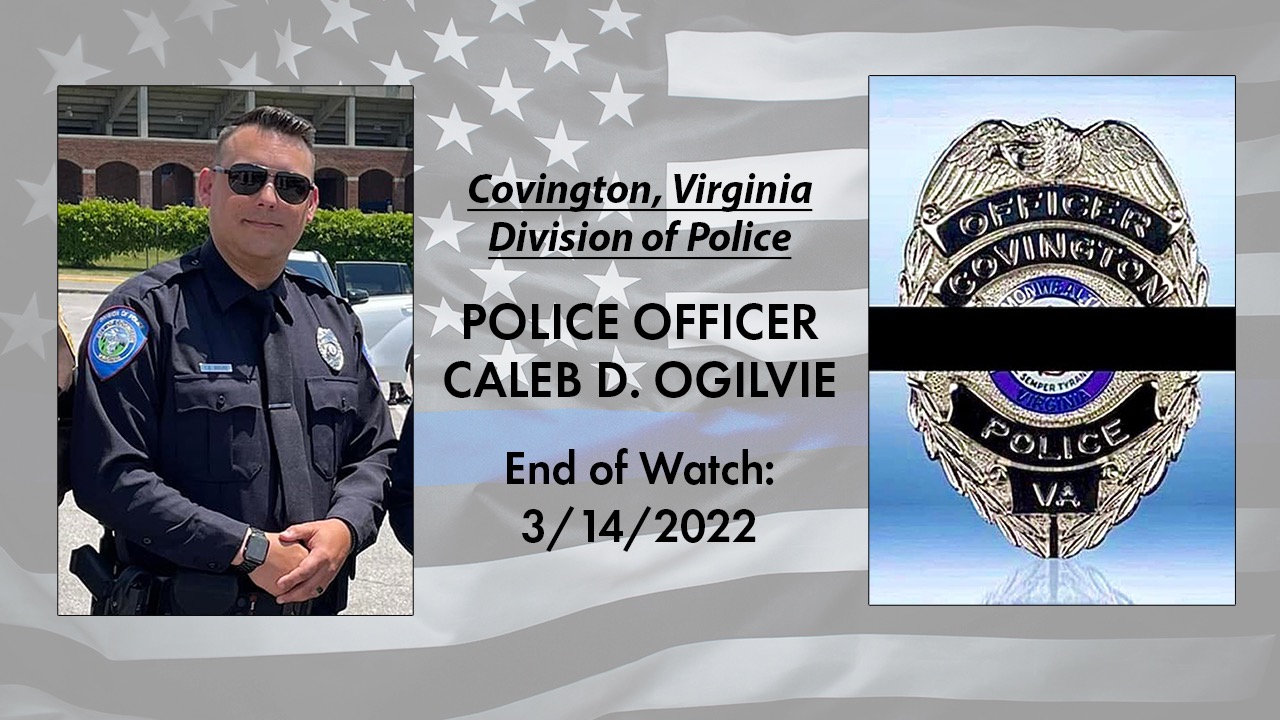 First Responders
Line of Duty Death - Covington, Va. Police Officer Caleb Daniel Ogilvie
THIS IS THE CAMPAIGN ENDORSED BY CHIEF CHRISTOPHER SMITH OF THE COVINGTON, VA DIVISION OF POLICE.  Covington, Va. Police Officer Caleb Daniel Ogilvie, 35, was shot and killed in the line of duty on Monday, March 14, 2022. Officer Ogilvie joined the Covington Police in 2021 and is a former Marine. He leaves behind a wife, Natasha, and their two young daughters. He also leaves behind an ex-wife, Malarie, and their two young daughters.
Please help support this family who have suffered the unimaginable loss of their husband and father.
OBITUARY
Officer Caleb Daniel Ogilvie, age 35, of 1306 Concord Street, Selma, Virginia was tragically killed Monday, March 14, 2022 in the line of duty.
He was born November 3, 1986 in Wisconsin to Daniel Raymond Ogilvie and Delora Anne Chambers Ogilvie. He served four years in the United States Marine Corp with two tours in Iraq and Afghanistan and continued to serve his community as a police officer for the City of Covington. He was a volunteer fire fighter and EMT for Roanoke County, a Chicago Bears fan, and enjoyed creating TikTok's for the Covington Police Department. He loved spending time with his family, loved his German shepherd dogs, Penny and Major, and loved making people laugh. 
In addition to his parents he is survived by his wife, Natasha Erin Ogilvie of Selma; four daughters, Emersyn and Wrenley Ogilvie of Selma, and Kileigh and Rilyn Ogilvie and their mother, Malarie Ogilvie, of Christiansburg; a sister, Abigail Chavez of NC; two brothers, Rian Ogilvie of IL and Benjamin Ogilvie of NC; father-and mother-in-law, Oler Dudley Jr. and Brandy of Clifton Forge; sister-and brother-in-law, Teresa Wright and Joseph of Clifton Forge; brother-and sister –in-law, Oler Dudley III and Mallory of Norfolk; and a number of nieces and nephews. 
A funeral service will be held on Saturday, March 19, 2022 at 12:00 Noon in the Convocation Center of Dabney S. Lancaster Community College, Clifton Forge with Mr. Chris Fisher officiating. Interment will follow in Cedar Hill Cemetery, Covington. The family will receive friends on Friday afternoon from 2:00PM until 6:00PM at Nicely Funeral Home, Clifton Forge. The family will also be receiving friends on Wednesday evening and Thursday evening from 4:00PM until 6:00PM at the Ridgeway Room, Clifton Forge.
------
VIRGINIA STATE POLICE PRESS RELEASE:
The investigation remains ongoing at this time into the fatal shootings that occurred Monday (March 14, 2022) in the City of Covington. 
The incident began at approximately 4:30 p.m. Monday, when Toney S. Poulston Jr., 42, of Covington, Va., entered a gas station/convenience/hardware store in the 100 block of North Alleghany Ave. A domestic situation ensued between Paulston and a relative who was employed at the store, Randall Lee Paxton, 64, of Covington, Va. The situation escalated to the point of Poulston shooting Paxton. 
Upon being alerted to Poulston's erratic and escalating behavior inside the store, the City of Covington Police and Alleghany County Sheriff's Office immediately responded to the scene.
When the officers and deputies arrived, they encountered Poulston armed with a pistol coming out of the store. Shots were fired, which resulted in the death of Poulston and a City of Covington Police Officer, who had responded to the scene. 
Once the scene was safely secured, law enforcement made their way inside the store. Inside they discovered Paxton deceased as a result of a gunshot wound. An adult female inside the store was not injured during the shooting. Both the female and Paxton were employees of the business, were married to one another, and related to Poulston.
No additional law enforcement were injured during the course of the shootings.
At the request of City of Covington Police Chief Christopher J. Smith, the Virginia State Police Bureau of Criminal Investigation's Salem Field Office is investigating the line of duty death of his police officer and of Mr. Paxton. At the request of Chief Smith and Alleghany County Sheriff Kevin W. Hall, the VSP BCI Salem Field Office is investigating the officer-involved shooting. 

This is all the information VSP will be releasing tonight on this incident. 

Donations & Comments
Only administrators, organizers, and beneficiaries can reply to comments. Cornerstone Building Brands donated
$1,000

---
Reply from

Virginia Association of Chiefs of Police Anonymous donated
$1,000 James Arthur donated
$1,000

A fellow Marine who knew Caleb ( Shane O'Flynn ) asked that we do a raffle for Caleb at our shop today. We got $500 from the raffle and $500 more in donations from the community here in Nottoway County. We appreciate Mr. Ogilvie's service to both his country and his community.
---
Reply from

Virginia Association of Chiefs of Police

That's incredible! Thank you so much! RICHARD PAXTON donated $100 Brett Siebenkittel donated $50 CrossFit Unwritten donated $500
Our thoughts and prayers are with you! 💜 Jonathan Cleck donated $25
God bless our LE community. Tim & Susan Walton donated $50
Thank you, Officer Ogilvie, for your many years of service, and may God watch over and bless your family.