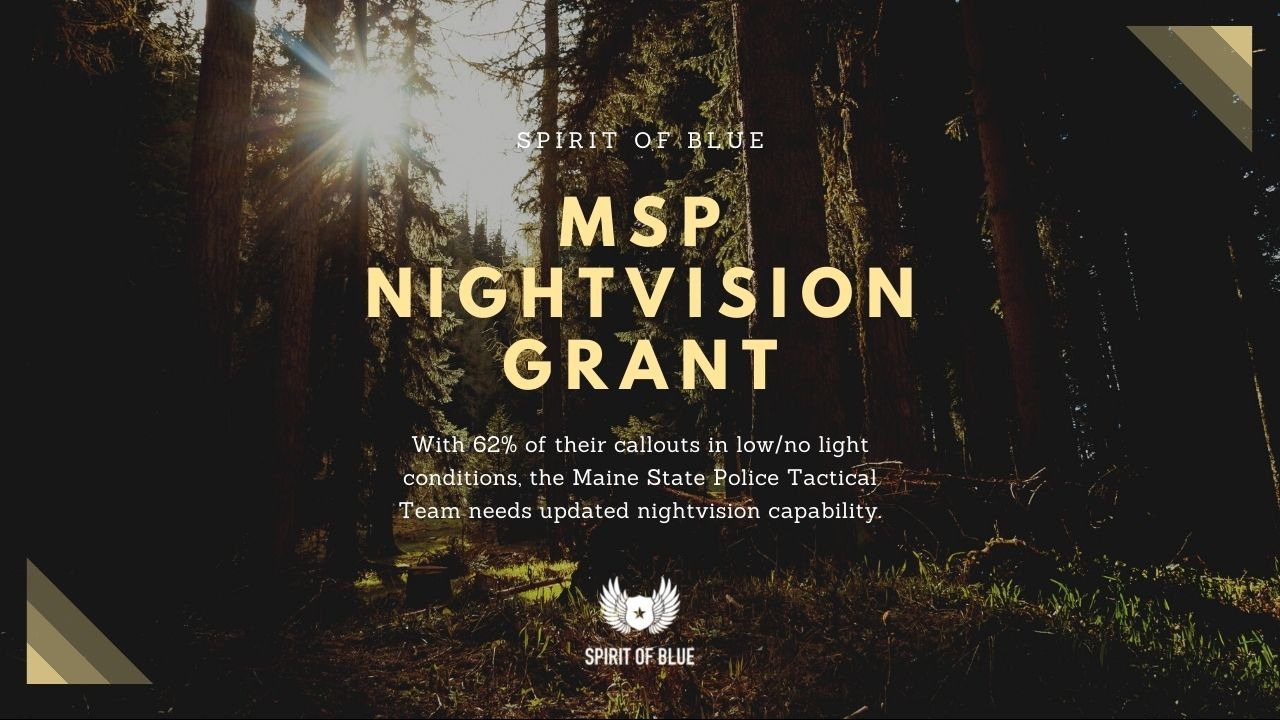 First Responders
Maine State Police Nightvision Grant
The Maine State Police Tactical Team is the primary Tactical Response Unit for the State of Maine consisting of 23 operators responsible for responding to all types of high risk incidents throughout the State.  In recent years the Tactical Team's missions have consisted of a variety of operations including Armed Barricaded Subjects, Wooded Manhunt Operations, High Risk Search Warrants, VIP Protection Details, Violent Fugitive Apprehensions and multiple Hostage Rescue Incidents.  The Tactical Team averages over 50 deployments a year.
Last year alone, 62% of their deployments were in low or no light environments, making their ability to operate in the dark a necessary capability.
Spirit of Blue Foundation is attempting to raise $30,000 in order to grant three new night vision goggles to the team.  Because of the advanced technology utilized in amplifying ambient light to a level that operators can essentially see in the dark each unit is substantially expensive.
This grant will serve as the 2021 Trooper Jeffrey S. Parola Memorial Grant, awarded in memory of Maine State Police Trooper Parola's service and sacrifice in protecting his community.
We are inviting Mainers to join with us in supporting the Maine State Police for the benefit of their troopers' safety and to increase their ability to safeguard the community.
Donations & Comments
Only administrators, campaign organizers, and beneficiaries can reply to comments.
There have been no donations to this campaign yet.