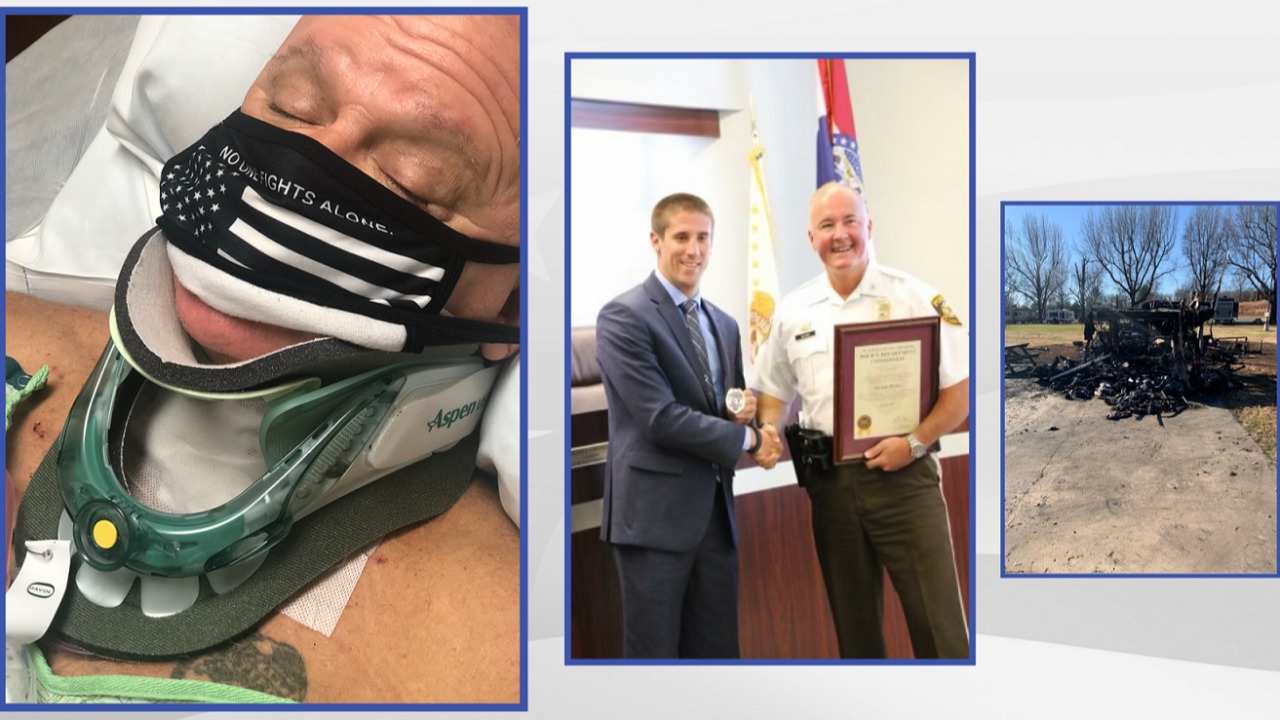 First Responders
Rebuilding Our Life After The Loss of Everything
My name is Tina and my husband, Kevin started his law enforcement career over 32 years ago. During this time, Kevin worked midnights, as well as three other jobs, but never complained. Early on in his career, in the summer of 1993, he was hit by another officer's squad car. Unfortunately, we never filed a workmen's comp claim for fear of him losing his job. Later in his career, he became a K9 officer and worked in that capacity for over 10 years. We lived and loved that part of his job as much as he did.  With his K9 position came much longer hours, lots of call outs and much more training, which led to more time away from the family.  
When it was time to move on from K9, Kev was involved in a confrontation with a gentleman in a jail cell that ended up getting him hurt. He had to have rotator cuff surgery which put him out of work for almost a year. In June 2018, Kev had to receive knee surgery that once again was work related and to no fault of his own. Once again, he was out of work and our family struggled to stay afloat.  
You see, I am totally disabled from chronic daily headaches with complicated migraines and we travel to St. Louis, MO for my treatments, but some of that had to be put on hold due to the fact we could not afford the gas to make it there and back.  Those were the choices we had to make to survive for Kev to continue doing the job he signed up for and loved to do, and I backed him 110%. We are a family of Blue.  
On October 9, 2020 he was called to an incident in progress with another officer and it ended horribly.  On that day, two officers got hurt. Kev required surgery on his neck due to two bulging disks plus a crushed vertebrae.  The recovery time will be long on that and once complete, he goes back to have another surgery on his lower back to fix a bulging disc and another crushed vertebrae. As of today, we have not received any money from workmen's comp.  
With all of this going on, we sold our house and were living in a huge fifth wheel camper. We arrived home on December 5th after Kev's neck surgery and went to bed. Kev woke me up at 2:33 am with the camper engulfed in smoke. We ran out of the camper with only the clothes on our backs and fortunately, we were also able to get our dog out in time. After attempting to get help from neighboring campers, we drove to a convenience store, where 911 was called. By the time we got back to the camper, it was engulfed in flames. Everything we had that we needed to live for the next year was in there and we lost it all in less than 20 seconds. We are now trying to adjust to living without the comforts of a home and everything that goes with it.   
Kev saved our lives that night and we are grateful we have each other. Kev is trying to adjust to the fact that his law enforcement career that he loved more than life is over and that we have to start rebuilding from nothing yet again.   
Please find it in your heart to help us rebuild our lives. Thank you to everyone who can pray for us.   
Updates

January 1st, 2021
Walter Harris, Organizer
It's been since Oct 9, 2020, I backed up another officer on a call involving a suspect who had been off his medication's that somewhat made him mentally stable.
This suspect resisted all verbal commands and attempts to take him into custody to get him treatment. Needless to say I was in a fight for my life and protecting the other officer. This other officer I trained 20 earlier. The very first thing I told him was "YOU NEVER LEAVE ANOTHER OFFICER IN A FIGHT". This fight was 14 minutes long but my friend Officer Jackie Wilson never left my side.
Update, I had surgery on Dec 2, 2020. I had two disc removed from my neck and a fusion. I'm in a neck brace for what I was told 5 months. Along with the neck brace I have to wear a Bone Mass Stimulater for 4 hours a day. I have more painful days then not. I have spasms across my shoulder headaches most of the time since I have a concussion .
I hate the fact I can't do anything that causes me to lift anything heavier the a coffee cup..
I've been told by my spine doctor told me he can't do anything for my lower back until I get mobility in my neck.
I have a blown disc and a crushed vertebrae in my lower back.
Work comp you know isn't enough for what Bills I have. 
I'm lucky to have a wife that has stuck by my side for over 30 years in law enforcement. My wife is on full disability for migraines.
I would do it all over again. I love my job. As much hate there is for our profession I'm proud put that uniform and do my job to the best of my ability.
I want to thank Fund the First for getting this campaign started for me and my wife. 
A special thanks to everyone who has donated and sent prayers.
GOD BLESS everyone and may 2021 be a better year. Stay safe out there and watch each other's backs. 
Thankfully 
Deputy Kevin Harris

December 20th, 2020
Walter Harris, Organizer
 Up date on my neck surgery.
Four more weeks in the neck brace. The Doctor ordered Physical Therapy and a Bone Growth enhancer. I have to wear it for 4 hours a day. The Doctor advised me this is  a five month recovery. The Doctor won't do anything for my lower back until I'm finished with the neck recovery.
My sister Tammy Elias is letting us stay with her and my Brother In Law Fred Elias. They are even allowing my Boxer Ozzie to stay with us in the house.
Tina and I are so thankful for everyone's donations and prayers.
There's no go time for anything like the situation we are going through. So many good people have given to our situation with Christmas right around the corner and taxes coming. Good people have given money and prayers. Which my family and I thank you so much for all you have done.
like our situation isn't bad enough our home owners insurance want pictures and receipts for the items we lost in the fire. I just don't know where we are expected to come up with pictures and receipts. I don't understand what part of we lost everything we had in the fire. Phones and computers everything. Nothing like making it harder on us.
Thank you
Respectfully 
Kevin Harris
Donations & Comments
Only administrators, organizers, and beneficiaries can reply to comments. Anonymous donated
$1,000 Anonymous donated
$600

You have a better need for my government stimulus payment than I do.
---
Oh my Gosh, thank you so much for your donation to help rebuild our life. God bless you and have a Happy new year. Thomas Brooks donated
$500

You're in our thoughts and prayers
---
Thank you Buddy for the help. I'm really struggling with asking for assistance. I embarrassed. Stay safe Buddy and have a Merry Christmas. IGY6 Ralph Ragsdale donated $25
---
Thank you so much. Your donation is greatly appreciated and put to good use. God Bless you. Blake Sorenson donated $50
---
I try to reply to everyone that's so kind to take the time out of their day to give to me and my family. We haves received donation to us into the Fund The First, prayers and gift cards. I know it's Christmas like times aren't hard enough. The donation 's amazing. Thank you Blake for thinking my wife and I. Stay safe, IGY6

---

Thank you so much for your donation to rebuild our lives. Merry Christmas to you and your family. God Bless you. Jim Quill donated $25
Hang in there! Sending prayers for a Very Merry Christmas and a much happier 2021!!
---
Thank you so much. We are so great full for all the donations and prayers. God Bless you all and have a very Merry Christmas

---

Thank you we need prayers. People are sending prayers and donations to help us. No matter what people send us, I get more enjoyment just see all the post praying for us. This is what I have loved for over 30 years in Law Enforcement. May you and your family have a very Merry Christmas and God Bless you all.

---

Thank you so much prayers are much needed. God Bless you and Merry Christmas

---

Thank you so much. I hope you have a very Merry Christmas Tia Goldsby donated $25
sending prayers as well! 🙏🏾
---
Thank you so much for everything. We are very grateful for all the responses we have gotten. God Bless you and your family and a very Merry Christmas

---

Thank you so much for the prayers.I wish you and your family a blessed Christmas. Anonymous donated $25
---
Thank you so much. God Bless you and have a very Merry Christmas Tyler Evans donated $20
---
Thank you for your donation to help me get back on our feet. God Bless you and have a very Merry Christmas Anonymous donated $50
Prayers for all of you!!!
---
Thank you for your donation. God Bless you and I hope you have a very Merry Christmas Lindsay & Taylor donated $50
Hang in there and please let us know how else we can help! 💙
---
God Bless you for helping us with your prayers and donation. Have Merry Christmas.