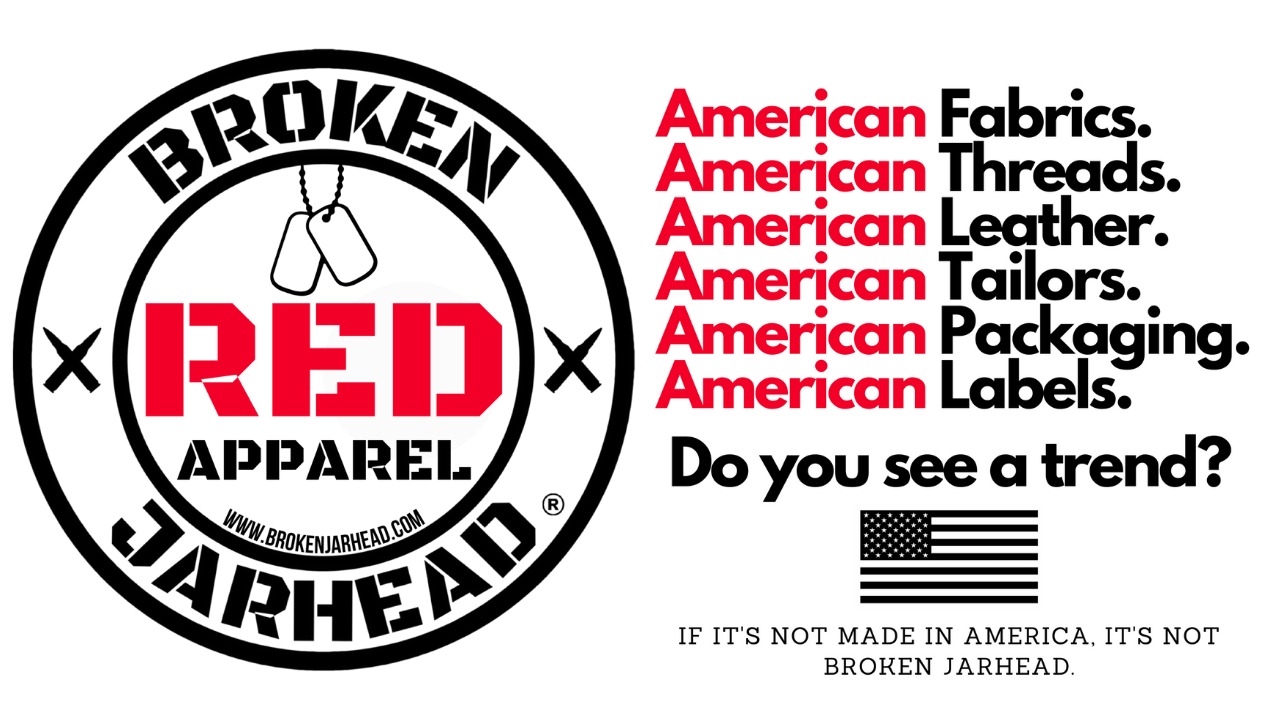 Military
RED Hoodie - American Apparel Actually Made in America
100% Made in America
by Veterans, Mil-Spouses, and Mil-Parents
Broken Jarhead takes pride in only offering products made in America by American veterans. Until now we have specialized in making stickers, patches, and challenge coins. However, after looking for nicer, upscale veteran apparel that doesn't scream bro-vet or uber tactical, we've decided to make our own.
In keeping with our Made in America tradition, we initially looked into a private label route where we could buy hoodie blanks, modify them, and resell, but almost everything comes from China. Personally, I don't want to put our American flag on a Chinese-made product. The few pieces we could find that were made in America were of bad quality and had bad reviews. So we asked ourselves, "Can we make designer quality, veteran apparel using ONLY materials sourced in America?"
Yes we can!

It's more expensive and the profit margins are less, but we care about the mission more than the money. We have worked to find the following:
100% Premium American cotton thread,
100% Premium American cotton/polyester fabric
American seamstresses/seamsters
American sticker makers and apparel tag makers
American packaging material
​
Coming out of COVID we have noticed 2 things in clothing manufacturing:


Overseas inventory is bare - Great time to produce in America!
Americans need work - Great time to produce in America!
In addition to keeping everything here at home, we also ensured as many of our processes as possible are accomplished using veterans, military spouses, and/or military parents. You can't buy the care and attention to detail these awesome people put into the product. They create them as though they were making it for their family - because in a way, they are!
Paracord Drawstring 

- Mil-Parent Company


Drawstring Aglets

 - Veterans shooting .22!


Seamstresses/Seamsters

 - Veterans/Mil-Spouse/Mil-Parents


Leather Engraver

 - Veterans


Apparel Tags & Stickers

 - Veteran Company
​
Why we are raising funds

Well, it's dang expensive to get all this rolling! All-American comes with a high price tag - especially since we are paying our seamstresses/seamsters $15-20/hr, not children overseas $0.50/day! Not being able to buy in large quantities means our cost is about $60 to manufacture these hoodies. In order to get them to market faster, we need a little help!
What is the RED Apparel Line?
Remember Everyone Deployed (RED).
Our inaugural clothing line will have subtle RED flare to honor those deployed. Our hoodies will feature red paracord drawstrings, a red flag patch on the pocket, and the interior stitching will be red - the very fiber of our garments are made with the thought of the deployed in mind.
​
Too many people have abandoned the RED tradition (or simply don't know it) for one reason or another, and we would like to revive it in a fashionable way. There's nothing wrong with honor AND style!
​
With a Cause

For every piece of apparel sold, we will be donating a pair of socks to our brothers and sisters overseas! We will be teaming up with a non-profit already running this kind of campaign which is currently in the works!
When will we ship?
We are currently planning to begin shipping in December 2021 for those that back the project, and start selling online in January 2022.
If it's not made in America, it's NOT Broken Jarhead.
Learn more on our website.




Business Documents
LLC Articles OR Certificate of Organization
Donations & Comments
Only administrators, campaign organizers, and beneficiaries can reply to comments.
There have been no donations to this campaign yet.