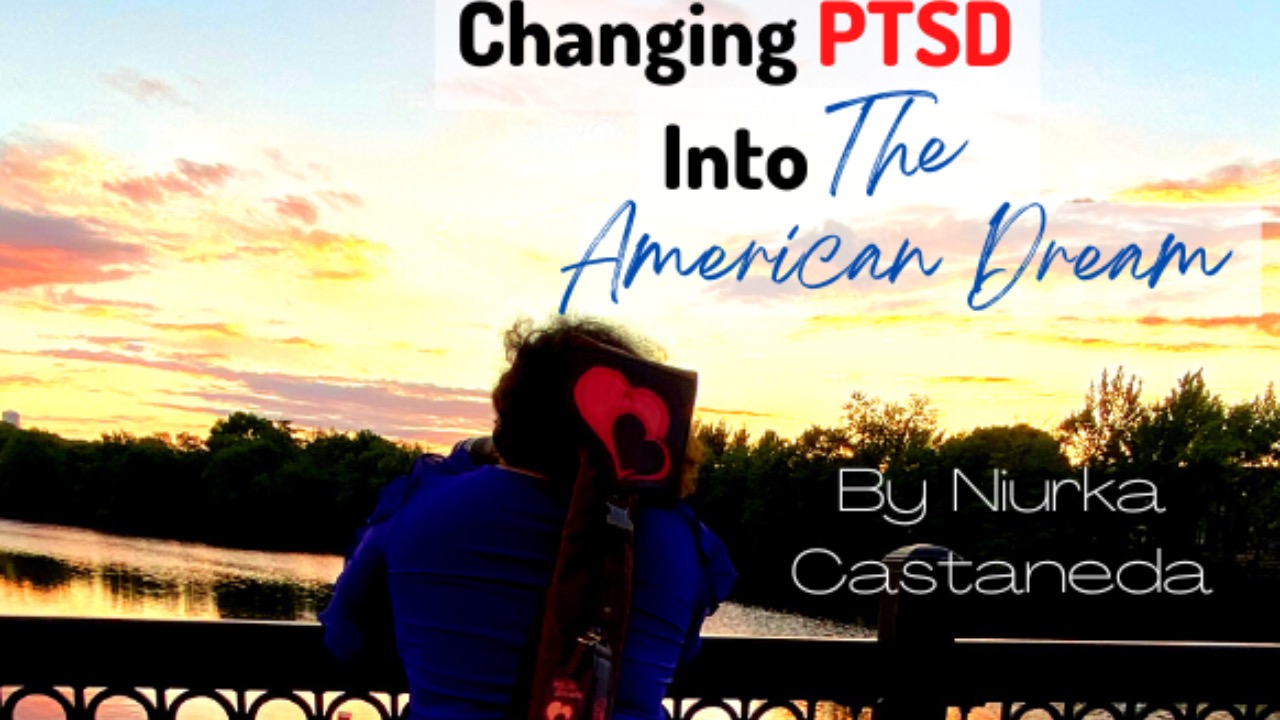 Military
Changing PTSD Into The American Dream!
JOIN US IN OUR MISSION.
From small entrepreneurial class projects, to historic gifts delivered to the White House, and the Florida Governor's Mansion, Amor Umbrella is spreading love across the nation! 
Once upon a time, what started as an entrepreneurial class project at a global supply chain program hosted by the Miami Dade College became a life-changing endeavor for Niurka Castaneda, founder of AMOR Umbrella, a Florida-based boutique enterprise bridging the gaps between the armed forces community and civilians across the nation. Now, her vision and mission are growing into a movement representing the rich cultural diversity of all military branches, especially 2M+ women veterans who often feel forgotten, left behind, and invisible.
The idea of these gift initiatives was born when Makissa Lewis, a woman veteran  and the founder of My Seester- a nonprofit serving her peers- suggested sending a signed, heart-shaped umbrella representing this overlooked demographic to the White House. Immediately, Castaneda decided to take the challenge and embarked on a year-long journey to make it happen. During that time, impressive partnerships were established among several organizations, small businesses, and artisans across the nation united under one vision: to support the neglected military community, advocate for mental health, and showcase the world class talent our rich country has to offer. Live events were organized to gather the signatures required, and each time new relationships were created and epic memories were built to last a lifetime. 
Each gift has been meticulously curated for the intended recipient and artistically wrapped in glamorous textiles, personally handpicked by international Mixed Media Artist Nefertiti San Miguel from Etnia Fusion Boston, following Japanese tradition (Tenugui & Furoshiki). Every ensemble tells a unique story of mindfulness and connection among all parties involved (the giver, the maker, and the receiver), fostering love and support in each multi-sensory masterpiece, whether highlighting cultural background, cheering-up a full recovery from Cancer treatment, or sharing the benefits of aromatherapy. All components have a special meaning full of symbolism, from the colors selected to the accessories included in each presentation. Side note/fun fact for the American history lovers: both gifts were mailed from the post office located just steps away from the Boston Tea Party.
The first time the organization sent a gift was November 2021, and the recipient was the newly-elected Vice-President of the United States, Kamala Harris, representing the 2M+ veteran women. To make a statement it was sent to the White House, the week of veterans day and intentionally leading to the week of Thanksgiving 2021. The color theme was purple to represent all the women veterans who have served in the United States military. Many different cultural components were intentionally brought together to represent the ethnic diversity of our population.  
And what made the gift historic is that it brought together people from the military, entrepreneurs, artists and scientists that took it upon themselves to initiate the changes they want to see in the world. All of them, took it upon themselves to advocate for a holistic approach to life and mental health.
This year, I decided to sent another historic gift; this time, to the Governor's spouse of my home-state, Florida and the selected day for the delivery was the week of Memorial Day. This gift not only represented the 2M+ veteran women, who are often feeling left behind and unnoticeable but also the military spouses who often get overlooked.
The bipartisan gifts initiatives were just the beginning for AMOR Umbrella in co-creation with the private sector to strengthen military and civilian understanding while enriching our communities, fostering cultural diversity, and discovering a vast pool of talents in all corners of this great country. 
The second gift in the series was sent in May 2022 to The Honorable Governor of Florida Ron DeSantis  and his wife Mrs. Casey DeSantis to show love and support to the family after her recent cancer treatments and full health recovery, The color theme was pink and brown to symbolize cancer-awareness and the natural resources found in the Everglades National Park.
All gifts have been one-of-a-kind functional art, mainly including heart-shaped umbrellas lovingly signed by friends and supporters, leather bags designed by San Miguel and Castaneda, and handmade in the USA by Donald Dodson, a veteran artisan.
Next on the list are: Oprah, Drew Barrymore and Martha Stewart. And you might be asking: why these public figures? The answer: because they all have in common to be living their own version of the American Dream. In spite the challenges and even the lack of resources at the very beginning of their endeavors, they made it big!  
We are in search of donors and volunteers to amplify our efforts and impact. Future projects will continue to showcase USA made products and military owned businesses, so if you are a veteran, active duty or spouse and would like to be considered to share the spotlight with us as one of our valued contributors contact us via email [email protected]
Let's do this! One Family. One Mission.
When you support this campaign you are also telling to our troops and veterans that you are thinking about them and that you care. If you Back this campaign, you are not just backing a veteran and her dream to help our fellow veterans, you are a part of lifting the spirits of every troop that is part of this initiative in the future! 
Reaching this $50,000 goal will jump-start my traveling, and speaking with families, filming Veterans and the organizations that help them all over the country.  I want to spread my story and my fellow Veterans' stories in every State. Depending on where I go, each trip will be from $1,000 to $2,000, so reaching my $50,000 goal can take me and my small film crew to about 16 places. The more we raise, the more Veterans we can reach and save.
Every donation means something!  Whether you donate $5 or $5,000, you will be getting something in return.  We want to give you a gift for your support the best way we can! If we don't reach the goal, the funds that we do make will go towards as many speaking trips and reaching as many Veterans as possible. Whatever we make will go towards spreading the message.
The Impact
With your support and our show broadcasted nation wide, and across the world, families will understand what is going on in the mind of their Soldier, which will in turn equip them with the understanding they need to effectively support their loved ones. And, our Veterans and Soldiers will learn that they are not alone in their mind, and the nation will prove to them that we do stand behind them!
What We Need
Our initiative and our effort to represent our veteran population thru our Initiatives and Independent filmmaking requires creativity, hard work, perseverance, and no small amount of generosity. AMOR Umbrella is hoping to raise at least $50,000 (including fund the first fees) for our third gift initiative, in our efforts to represent militaries families.
Cultural/Advisory Board
This project is collaborative and community centered. We strive to make sure the communities depicted are respectfully represented.  We will be asking you, our funders, as well as community members to participate in the process as the pilot comes to life. We are are not only open to feedback from the community.  This project is centered around community feedback and participation.  Look for updates from us on the various ways you can be involved.
You Can and Will Make a Difference
No donation is too small! Wonder how your $15 could possibly help?
Here is a breakdown of what your contribution could cover:
The monthly / yearly overhead expenses of the initiative
The marketing of each episodes
Experience AMOR umbrella Swag with exclusive gear
Capture the memorable moments with AMOR umbrella gift collections 
Digital download of the completed Umbrellas of Hope TV series by Amor Umbrella
Drinks with the veteran founder! Pick our brains
Video "thank you" messages from our team
VIP tickets and experience our red carpet premieres 
Classic Limited Edition pocket watches
Producer credit  
Business Shoutout
Your Love is Our Love !
Pen
T-Shirts - We will be sending a separate email with instructions to submit size. These will be ordered soon and should arrive to our current donors by end of May. 
Military Coins - We are currently sourcing a Veteran/Military Spouse owned business to produce these and hope to include these with the T-Shirts (for those that have this item included within your tier).
Coffee Mugs - We are currently sourcing a Veteran/Military Spouse owned business to produce these and hope to include these with the T-Shirts (for those that have this item included within your tier).
AMOR umbrella t-shirts - We are including these with the T-Shirts (for those that have this item included within your tier).
As a thank you, one lucky winner that donated to one of our fundraising tiers will find a Golden Ticket in one swags bags. That Golden ticket will get you a prize box filled with AMOR umbrella Swag and a bunch of other goodies from fellow Veteran Owned Businesses that we have teamed up with proudly sponsored by Combat Boxes, who is helping to put this prize box together.
Share this page with your family and friends
Subscribe and follow us on YouTube, Instagram and Twitter
Engage in meaningful conversations around the topic of this movement
What Do You Get in Return?
If you'd be interested in a more permanent role in supporting AMOR umbrella, such as an Umbrella of Hope TV show sponsor, I would love to discuss the opportunity with you. 
We also bringing awareness of our services by securing a booth with the AAFES event in December and would need to purchase promotional products in advance. We'd also like to have some merchandise, such as coffee mugs, pens, and magnetic business cards. We'd also like to purchase stickers that can go on the purchased bags. 
Other Ways You Can Help
I understands that some people won't be able to contribute financially, but that doesn't mean they can't help. While we are grateful for every cent raised, there are absolutely other ways to support this project. You can still help by getting the word out!
Follow along on Facebook and Instagram for all our updates and shoutouts.
Instagram: @amorumbrella
Facebook: facebook.com/amorumbrella
IMDb: imdb.com
Website: amorumbrella.com
Read the full article in Medium

Share our campaign video, story, and mission!
Thank you.
Niurka Castaneda
Business Documents
VENTURES ARTICLES AND AMMENDMENT
Updates

May 30th, 2021
NIURKA CASTANEDA, Organizer
Be sure to follow us on Instagram, TikTok, Facebook, Twitter, or LinkedIn to stay in the loop. We are working on a special surprise for those who donate and picked one of out tiers. We will be posting it on our social media accounts once all the details are in order. 
Please share anything you see fit on our social with your follows to help us hit our target. Let's "Restore Hope to our military families together". Please us #AMORumbrella when posting. 
Thanks!
The AMOR umbrella Team

Donations & Comments
Only administrators, organizers, and beneficiaries can reply to comments.
There have been no donations to this fundraiser yet.