Military
Remembering Sgt. Kenny Lyon
"No one makes it out alive"...
That was just a small portion of the humor Kenny carried with him every day. He believed in the power of perspective and lived each day with intention. He chose happiness over adversity and valued every morning as a gift. The most important life choice he made was joining the Marine Corps in 2003. With that, he gained an astronomical family of brothers with the 3rd LAR Delta Company that joined him in his first deployment in 2004. In 2006, while on his second deployment fighting in Operation Iraqi Freedom, Sgt. Kenny Lyon sustained severe wounds leading to an amputation to his left leg, injuries to his jawbone, arms, head and trauma to his brain, earning him the Purple Heart. From there, his painful road to recovery would span over a total of 3 years, with 5 months spent in the hospital. In total, over fifty different surgeries that often required him to learn how to walk again were performed. Despite seemingly impossible hurdles, he would say, "It's all gravy baby!", or  "I just had a bad day at work". Nothing could keep Kenny down. 
On Thursday, September 9, 2021, Sgt. Kenny Lyon earned his wings. His sudden passing, due to  Pulmonary Embolism, leaves an immeasurable hole in our hearts, but the light of his presence will forever be an irrevocable blessing. His selflessness and valor should be a steadfast reminder of the privileges we experience daily. It is because of him, we should fervently find growth within ourselves in service to others. Please help us in honoring Kenny Lyon by supporting his beautiful family for the love and sacrifice he gave us all...
Due to the lack of life insurance and bills that Gigi has inherited from Sgt. Lyon, along with his accounts being in probate, we are asking our military and civilian community for support through this difficult time by contributing and sharing this campaign. 

Updates

September 30th, 2021
Christina Kearney, Organizer
On Friday, September 24, we came together to say farewell to our dear Kenny. 
To all of you who traveled and took time away from your families, thank you. To the men and women who made arrangements for one of the most beautiful funerals ever seen, thank you. To those who fought with him, loved him and believed in him, thank you. Few words can ever convey the depth of gratitude and humility that we feel. Your love and support over the last few weeks has provided much needed comfort to carry us through this dark time. It has also been a reminder that Kenny was a beaming light for us all. How blessed are we to have known such a man to walk this earth. Kenny was an incredible human being, with jovial personality and selfless devotion. Thank you for sharing your fondest memories, drinks and laughter in celebration of Kenny's life. Remember, this goodbye is only temporary. God bless you all and please, live each day like Kenny.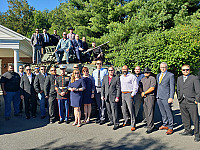 September 18th, 2021
Christina Kearney, Organizer
We are grateful for the amount of support we have already received in less than 24 hours. Thank you for your generosity and sincerity for Kenny's family. 
Donations & Comments
Only administrators, campaign organizers, and beneficiaries can reply to comments. Heather Rister donated $100
Kenny was an extraordinary human and will be greatly missed. David Humphrey donated $100
Thank you for allowing Patriot Guard Riders (PGR) to participate in the services of Kenny with a flag line and a motorcycle escort to Quantico. We are honored whenever the family of a deceased veteran or first responder invites us to participate in celebrating the life of a hero who valiantly served the rest of us. I have never met Kenny but reading the tributes of others shows me that he was a very special person and will be missed by many. Sometimes God has a mission in Heaven for people like Kenny and there will be no pain, or suffering or disability when he serves that mission. Anonymous donated $1,000
I had limited time to work with Kenny at Tracepoint but really appreciated his humor and work ethic. Thank you sir for your service. Karen Rankin-Magee donated $50 Lori Huntley and Rick Petisce donated $100
My son Andrew Henry served with Kenny when Kenny was injured in 2006. My husband and I had the pleasure of meeting Kenny in Maryland and Rhode Island when he visited Andrew. Please accept our deepest condolences during this difficult time. Semper Fi! Sincerely, Lori Huntley Rick Petisce Deana Stuart donated $200
We are so saddened to hear about Kenny's passing and are keeping you and your family in our thoughts. Rest in Peace, Kenny. -Rose and Deana Stuart James Wohlgemuth donated $20 Steven Griffin donated $320
I am grateful that I had a chance to meet Kenny in his tenure with Tracepoint. Mickey Disabato donated $200
I wish I was able to get to know Kenny better. I wish you all the best. Stay strong.