Military
Support Small Businesses Through fayVen
My name is April Caldwell, I am a CoFounder and the CEO of fayVen
fayVen.com is a website that books mobile businesses and artisans (aka Vendors) at local venues for pop-up shops.
We are the Airbnb of small business…
We help venue owners rent out unused space to create additional revenue and bring in ideal clients through booking complementary vendors.


At fayVen we believe that ALL small business owners, no matter what stage of growth they're in, should have access to quality retail space and we need your help!

We are run by two USAF Veterans, (married to each other) one, a woman (April) and the other, a person of color (Aaron). We have collectively served over 30 years in the military and we are in the Tampa area now trying to get fayVen a little bit more traction!
We want every brewery, winery, and drinking destination (and all kinds of other venues) in the US to use fayVen as a means to book complementary vendors to create inviting, exciting, and entertaining events every day of the week!

Help us help small businesses - since COVID has hit small businesses harder than ever, we need your help to get fayVen to a fully-functioning product so we can help them recover quickly! We are soooo close to an MVP (minimum viable product) and we just need a little boost to help us get our product to market. 


Why are WE so passionate about this endeavor? Well, it's because we lived it! My husband and I started a gourmet popcorn company in 2017 and even though the popcorn was delicious, because it wasn't made in a commercial kitchen, we couldn't sell it retail or online. That left us with very few options. We could set up at farmers' markets, which were ONLY held on weekends or we could deliver it... a
nd for people who were trying to make our business a full-time gig, there just weren't enough opportunities.
So, what did we do about it? We went to local businesses and asked if we could pop-up our popcorn shop at their establishments (yes, the pun is totally intended) and we always got the same answer – a resounding YES! That's when we discovered the opportunity to connect venue owners who had unused space with vendors who needed it.

From those experiences and after many conversations with other vendors like us, we decided that fayVen was a much greater need than popcorn – I know, it's hard to believe right? But it's totally TRUE!

If you support women-owned, black-owned or Veteran-owned businesses - we are your people! We will do whatever it takes to get this resource into the hands of small business owners. And we're asking you to partner with us on our mission!
check out fayVen.com for more information!
Follow us on IG: instagram.com
or on FB: facebook.com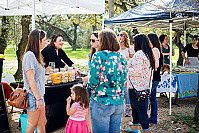 Business Documents
Donations & Comments
Only administrators, organizers, and beneficiaries can reply to comments. Daniel Astacio donated
$20