First Responders
PROJECT JOINT GUARDIAN
Updates

May 20th, 2022
Eric Hille, Organizer
Thank you for all the continuous donations we have received. Our team returned home from their mission at the end of April. However, there is a constant need to help the Firefighters in Ukraine. Our first mission was very successful and we were able to help the firefighters in Ukraine on numerous levels and deliver all the donated supplies. Currently first responders and fire stations are being targeted and destroyed. Due to the relationships we created from our first mission; we are receiving several messages requesting different kinds of supplies and additional assistance. We are planning to send a second mission in July. Hopes are to be able to raise enough funds to send continuous teams as long as there is a need for assistance out in Ukraine. As these trying times continue, we hope to continue to receive the generous donations and funds so we can continue to help and fulfill the needs of the firefighters in Ukraine.
We appreciate all the assistance we can get. Thank you again for your generosity.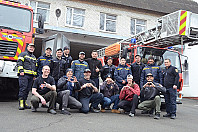 Donations & Comments
Only administrators, organizers, and beneficiaries can reply to comments. Alina DiDonato donated $1,500
Extraordinary effort. May gd bless all of you. Be safe. David Homer donated $50
Great humanitarian project and keep promoting as much as you can. Saw a piece this morning on TV and was made aware of your efforts to help in Ukraine Mystie Benny donated $100 Richard Finnegan donated $100
Thank you for what you are doing. Be safe. Frederick Friedland donated $22 Lawrence A. Siebert donated $200
Saw segment on CNN and appreciate the work you are doing