All Groups
Vegas Sentinels Hockey Club Reserve Funds
The Vegas Sentinels Hockey Club is a 501(c)(3) non-profit organization whose main mission is to strengthen First Responders' mental and physical health through the game of hockey. 
The program currently organizes several adult league teams, charity/tournament games, open ice sessions for friends and family of first responders to practice skills, and travel games. Recently, the Sentinels have also partnered with the Friendship League (www.friendshipleague.org). They bring awareness to hockey programs in areas not typically associated with the sport. A club in Egypt has reached out to us hoping to host our humble program. 
Hockey is no doubt a costly sport but it is our firm belief that there is no sport like it.
It is our goal to make hockey accessible and affordable to first responders so they can be surrounded with like-minded individuals, enjoying the best sport there is, in an atmosphere where they can be themselves. 
Currently, all funds raised help subsidize fees associated with the above-mentioned activities. What started as a small group of 8 police officers has grown into over 60 first responder (police, fire, EMS) participants. 
With your generous donation, we can keep our first responders on the ice.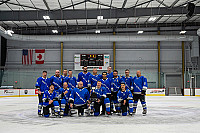 Donations & Comments
Only administrators, organizers, and beneficiaries can reply to comments.
There have been no donations to this fundraiser yet.