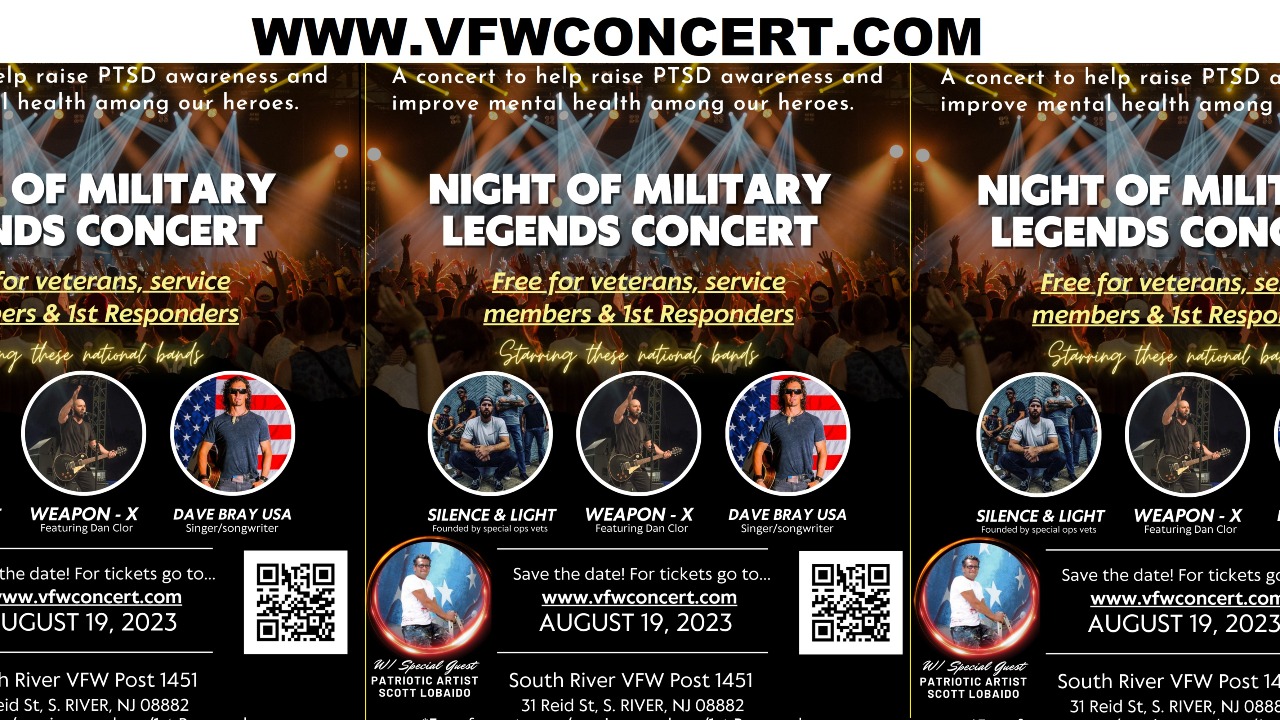 Military
Night of Military Legends Concert
Help Us Fund The Concert To Help The Veteran/1st Responder Community In New Jersey
*Press Release below


Local Veterans Group Organizing Free Concert For Veterans
A local VFW in central New Jersey is putting together a free event, Night of Military Legends Concert, to encourage all veterans to attend and meet other local veterans to relive the camaraderie found in military service.
 The South River Veterans of Foreign Wars, a non-profit organization, is calling all veterans to attend a free concert to encourage socialization, improve mental health and fight against post-traumatic stress, a common issue among combat veterans. 
 The organizers of the event have booked a great lineup of national rock bands, all from the military community. 
 "The bands we have on board so far, Silence & Light and Weapon-X and DAVE BRAY USA have military backgrounds and each of the band members understand the devastating effects of PTSD," Ken Molina, the VFW Post Commander said. "And several of us here at our VFW know it too well as we've also had friends who lost the battle with their demons. And most civilians don't know that 22 veterans a day take their own lives."
 Brad Thomas, the face of Silence & Light said of the opportunity to perform for veterans, "It means a lot to us to play for a crowd of veterans. We want them to have a great time and remember that we're all here to take care of each other. And we're going to do that through music."
 Ken wants to stress to the veteran and first responder community that the event is free of charge for them and it's only 20$ for guests. 
 "We want to eliminate every possible reason a veteran may have that would prevent them from attending," Ken said. "One of the most common effects of PTSD is isolation. Veterans may isolate themselves, and often suffer from depression and anxiety, too,"
 Marc Herzog, the regional leader for a national non-profit organization, Irreverent Warriors, understands the epidemic too and knows firsthand how beneficial social gatherings are for veterans. 
 "Any 'vet-together' decreases the chances that a vet will commit suicide. The fact is that isolation kills, and every event that brings veterans together must be encouraged to combat the veteran suicide rate. We at Irreverent Warriors applaud the VFWs efforts, and we expect it to be a great success," Marc said. 
 As a free-for-veterans event, the South River VFW will work with sponsors and ask for donations from the community to fund the event. 
 "The first thing we need to cover is operating costs, rentals, and so on.  Once that's covered, we'd like to offer the veteran attendees free giveaways that will encourage 'getting out' like health club memberships, sports tickets, trips, and so on," said Eddie, the South River VFW Quartermaster. He continued, "And we have an enormous five-acre outdoor venue that can easily fit hundreds of veterans."
 The organizers of the event said they're aiming for a special guest appearance that will be a big draw. 
 "The bigger the name, the more veterans will likely show, adding to our mission of getting veterans together," Ken said. "We know that there are some amazing, well-known musicians right here in New Jersey who strongly support our veteran community. We invite you to get involved." 
 For more information visit the website, www.vfwconcert.com. They also have sponsorships available and are asking the community to help raise the money to put on an incredible event. 
 "We would love for our sponsors to be business owners who are also veterans. We learned that many veterans who go into business find that it helps them stay focused and away from dark thoughts. They in turn often donate back to veteran nonprofits," said the VFW Quartermaster, Eddie.
For sponsorship inquiries, general questions, or media inquiries please email [email protected]
Donations & Comments
Only administrators, organizers, and beneficiaries can reply to comments. Anonymous donated
$1,000

what a fantastic cause. thank you. Nick Bruno donated
$1,000

NJ ACADEMY OF HOME INSPECTORS - A VETERAN OWNED & OPERATED BUSINESS Step into a rewarding career with NJ Academy of Home Inspectors! We teach students to become NJ licensed Home Inspectors. We offer unparalleled training and expertise, preparing our students not only to take the National Home Inspector Exam (NHIE) but also to embark on an exciting career as a Home Inspector. As a Veteran-Owned Business, we honor our heroes by accepting the GI Bill. Michelle Csatari donated
$1,000 Paulette Young donated $100
Thank you for your service to me my family and this country. ROUTE 18 AUTO GROUP donated $500
SPONSORSHIP FROM RT18 AUTO GROUP. Portuguese Fisherman donated $500 Ben Berry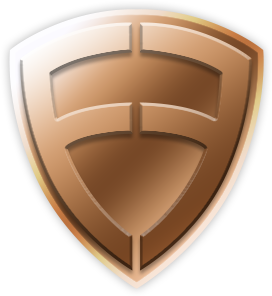 donated
$250
Eddie is the real deal and what an event to show support and love for our Fellow Warriors (Brothers and Sisters) dealing with a real-life challenge of PTSD, that I have seen firsthand working the problem daily with my Fellow Brothers and have lost too many to it...RIP. For those Brothers and Sister's still breathing stay in the fight and work the problem daily with a Brother or Sister you stood side by side or back to back with! For those Fellow Warriors still down range let the good Lord and your Brothers and Sisters be your strength and guiding light to get back home!!! MoneyTax Service Center donated $500 Operation K9 Beethoven donated $500 Eugene Lezark donated $500
Thanku for having such an amazing event