First Responders
TASK FORCE JOINT GUARDIAN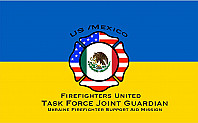 Donations & Comments
Only administrators, organizers, and beneficiaries can reply to comments. US Patriot LLC donated $5,000
Like so many others, U.S. Patriot stands in awe of your initiative to assist Firefighters and Search & Rescue Operations in Ukraine. Your unwavering commitment to service and sacrifice is truly inspiring. Please accept this contribution from U.S. Patriot as our commitment to stand beside your courage and cause in these uncertain times. We'd also like to bolster the gear selection your crew will be taking to Ukraine, and will be reaching out shortly to coordinate the logistics. We hope the actions of Project Joint Guardian are successful and serve as a beacon of hope and humanity across the globe. You have U.S. Patriot's support and respect. Safe Travels. Keep the Faith and Step Out. Local Hotel donated $1,120
Stay safe - Love from Fremantle Australia. Anonymous donated $1,000
Thank you and please be safe! David Homer donated $50
Great humanitarian project and keep promoting as much as you can. Saw a piece this morning on TV and was made aware of your efforts to help in Ukraine Mystie Benny donated $100 Richard Finnegan donated $100
Thank you for what you are doing. Be safe. Frederick Friedland donated $22 Lawrence A. Siebert donated $200
Saw segment on CNN and appreciate the work you are doing Esther Pappas donated $100