First Responders
PROJECT JOINT GUARDIAN
Updates

May 20th, 2022
Eric Hille, Organizer
Thank you for all the continuous donations we have received. Our team returned home from their mission at the end of April. However, there is a constant need to help the Firefighters in Ukraine. Our first mission was very successful and we were able to help the firefighters in Ukraine on numerous levels and deliver all the donated supplies. Currently first responders and fire stations are being targeted and destroyed. Due to the relationships we created from our first mission; we are receiving several messages requesting different kinds of supplies and additional assistance. We are planning to send a second mission in July. Hopes are to be able to raise enough funds to send continuous teams as long as there is a need for assistance out in Ukraine. As these trying times continue, we hope to continue to receive the generous donations and funds so we can continue to help and fulfill the needs of the firefighters in Ukraine.
We appreciate all the assistance we can get. Thank you again for your generosity.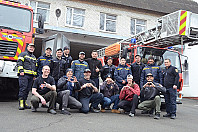 Donations & Comments
Only administrators, organizers, and beneficiaries can reply to comments. US Patriot LLC donated
$5,000

Like so many others, U.S. Patriot stands in awe of your initiative to assist Firefighters and Search & Rescue Operations in Ukraine. Your unwavering commitment to service and sacrifice is truly inspiring. Please accept this contribution from U.S. Patriot as our commitment to stand beside your courage and cause in these uncertain times. We'd also like to bolster the gear selection your crew will be taking to Ukraine, and will be reaching out shortly to coordinate the logistics. We hope the actions of Project Joint Guardian are successful and serve as a beacon of hope and humanity across the globe. You have U.S. Patriot's support and respect. Safe Travels. Keep the Faith and Step Out. Alina DiDonato donated
$1,500

Extraordinary effort. May gd bless all of you. Be safe. Brian Bonar donated
$1,500 Patrick Walsh donated $100 Katie Bridges donated $890 Deane Plaister donated $50 Cory Bantilan donated $100 Lillian A Paynter donated $20 Family & Community Education Douglas County Extension donated $430
The Douglas County Kansas Extension Unit of Family & Community Education have chosen this effort for our annual contribution to program of choice. Thank you for all that you do and our prayers of safety and peace go with you Margaret Barnes Treasurer, Vinland FCE Ann Danneberg donated $250