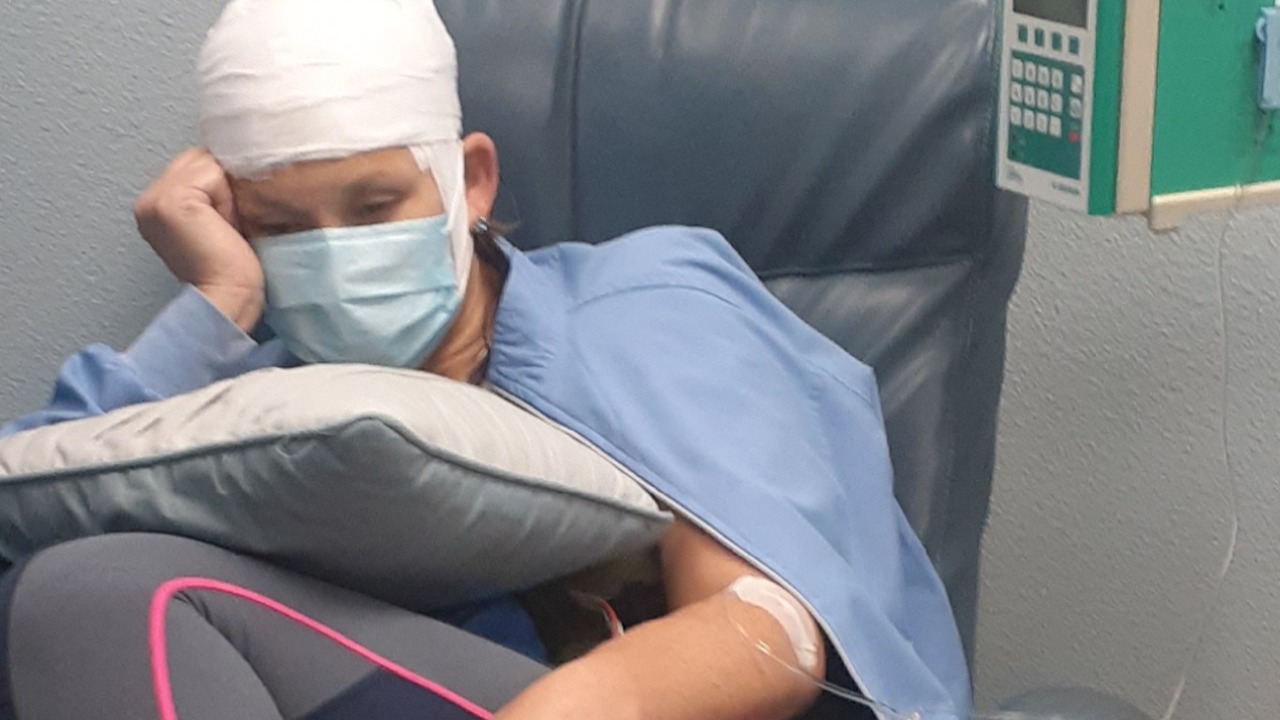 Medical
A family of public servants need your help.
I am a Navy Veteran who married another Navy Veteran. Together we are raising a family of daughters who also want to serve our community. 
After a 4 year battle with stage 4 breast cancer that almost took my life more than once, I was well enough to support my husband in following his dream of becoming a Police Officer in New Smyrna Beach. 
With everything going as planned I became a Patient Care Tech working in the Progressive Care Unit at Advent Health New Smyrna. We were living the dream.
October 2nd as I was working I had a stroke, was coded and sent to the ED of my own hospital. Since then I have learned that I am having uncontrolled seizures every hour. Some are minor and some are full-blown petite mal seizures. My husband has tried his hardest to stay by my side and care for me but as we all know the bills never stop coming. 
I hate to have to ask for help, but our simple life is more than the Police department pay can handle. I am hopeful that by the end of the year my doctors will figure out what is happening and get me back to work. But I am terrified that I may be put on permanent disability.  I'm a worker and don't know where to turn to cover the gap between now and then. 
My husband's brother in arms has afforded us the opportunity to turn to all of you for help. We do so with heavy hearts and a face full of tears. We don't know what the future looks like but we need your help to get there. 
As we pay the endless doctor bills and co-pays to keep moving forward with treatment we keep falling further behind and I don't want my husband worried about finances, I want his mind clear to protect the community he swore to protect and be vigilant and keep himself and his shift mates safe. 
Our goal for this campaign is just to survive this journey and be able to continue to live. Please find it in your heart to help our blue family and help in any way. We promise to do the same when we are out of our storm. This to shall pass, we believe this with all our heart. 
Thank you in advance from the bottom of our hearts.
Updates




Donations & Comments
Only administrators, campaign organizers, and beneficiaries can reply to comments. Peggy Rivers donated $100
I am a friend of Gloria Doster's. Praying for your successful recovery.
---
Mrs. Peggy you are such a sweetheart and a wonderful blessing. Thank you for your kindness and generosity. Thank you for your prayers. May God bless you tenfold in return Thank you ❤ Annette S donated $100
Thinking of you and your family.
---
Thank you Annette so much for thinking of me my family. We appreciate your kindness and generosity very much. Have a wonderful Thanksgiving ❤ Nate and Kim Ingram donated $100
You and the family continue to be in our prayers and we are available to help in any way that is needed!
---
I am forever grateful for your continuous prayers of love and support. Thank you for being so kind and supportive. You both are truly amazing ❤ Nancy Chapman donated $50
Just know you and your family are in my prayers. Wishing you nothing but the best as we head into this season of Miracles.
---
Thank you for covering my family and me in prayer Nancy. That means more to me than you know. Thank you for your well wishes and for your kind heart and generous donation. Yes we are in a season of miracles and by faith i receive it. Thank you for reminding me of that Nancy. Hugs to you❤ Jeff & Jill Kromraj donated $50
Our thoughts & prayers are with you and your family xoxoxox
---
Thank you so much for your prayers and kindness and support. I am completely amazed by the outpouring of love and generosity that everyone has shown Kris, our girls and me. Thank you so much Jill and Jeff. I pray that you know how much your kindness means to us.❤ Happy Thanksgiving Rosalie Doerflein donated $50
---
Thank you for your prayers for my family Rosalie and for your generous donation. We appreciate your kindness and generosity and pray that God blesses you and your family as well. ❤ Anonymous donated $25
---
Thank you for being so kind and thoughtful and for generously donating to my family and me. We are so grateful and thank God that you're so willing to help ❤ David & Betty Wright donated $1,000
We pray for help, love and healing for you and your family. The blessings of our Lord be upon you.
---
David and Betty thank you for your prayers of healing. I receive them and believe that God will heal me. Thank you for being so incredibly generous and such a willing vessel. Thank you for blessing my family with such an incredible donation. I pray that God blesses you and yours tenfold. ❤ Mike Waldrop donated $20
---
Thank you Mike so much for your generous donation to my family. We are incredibly grateful for your support. Happy Thanksgiving 😊 David Goldman donated $100
wishing well and hope you recover well and to you and your family a blessed and safe thanksgiving
---
Thank you David for your well wishes and your beautiful, kind words for my family and me. Thank you for your generosity. Wishing you and your family a happy Thanksgiving as well ❤